For those who decide to pass a few days at the farm, sharing in a different life, we provide several cabanas. Not luxurious, but very comfortable, the cabanas are integrated into the unique natural environment and are close to many of the area's activities: skiing, hiking, horseback riding, fishing, adventure sports .... all in addition to the activities of the farm.

The cabanas come with fully equipped kitchens, television with direcTV, bedding, parking, outdoor barbecue and large green spaces. As we are at the base of the Andes, all have gorgeous mountain views. They are separated from each other for complete privacy.

Availability : All year round.
See our rates : Clic here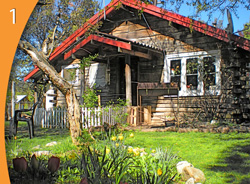 2. CABANA DE MADERA:

Capacity for 5 people. Upstairs: large, open loft with double bed. Downstairs: common area for dining and sitting. Wood stove for heat. Kitchen with gas stove, refrigerator, and freezer. One bathroom with separate ante-room. Windows in shower look onto Cerro Catedral. The living area can accommodate up to three single beds. Hot water.

Home interior photographs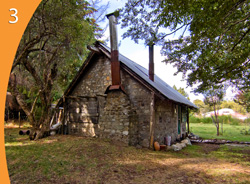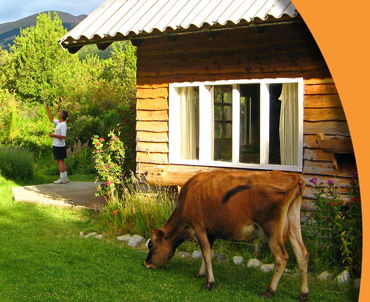 1. CABANA DE TRONCOS:

Capacity for 6 people. Log cabin, made of native wood. Three bedrooms (one with double bed, the others can be configured as needed with double or single beds). Common space with kitchen area, dining, and sitting areas. One bathroom. Heated by wood burning stove. In the kitchen, there is both a gas stove and wood burning stove for cooking, refrigerator and freezer. Hot water.

Home interior photographs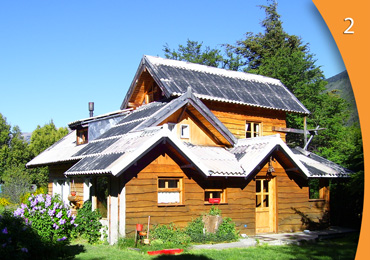 3. CABANA DE PIEDRA:

Capacity for 2 people. Very rustic but charming stone cabin. One bedroom with one double bed. Common area with kitchen, dining, and sitting areas. One bathroom. Wood stove for heat. Hot water.